nutraMetrix Transitions Carbohydrate Absorption Inhibitor
Consumer
Satisfaction
0%
Based on
0 Votes
nutraMetrix Transitions Carbohydrate Absorption Inhibitor Review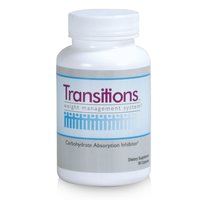 nutra metrix Transitions Carbohydrate Absorption Inhibitor (CAI) does exactly what it sounds like it will do—inhibits the absorption of carbohydrates. It claims that it will maintain blood sugar levels, promote weight loss, reduce the effects of carbohydrates on the body, reduce starch absorption, and protect against the breakdown of starch into glucose. A close look at the ingredients will determine whether or not nutraMetrix is really capable of all this.
Ingredients in nutraMetrix Transitions Carbohydrate Absorption Inhibitor
It contains Magnesium, Chromium, Wheat amylase inhibitor, Banaba leaf extract, Vanadium, and Bitter melon fruit extract. Magnesium regulates blood sugar level. Chronium helps the body use carbohydrates and fat as effectively as possible. It also helps regulate blood sugar and helps boost the metabolism. Wheat amylase inhibitor prevents the body from absorbing starches. Banaba leaf extract regulates blood sugar and promotes weight loss. Vanadium might boost metabolism. Bitter melon fruit extract regulates blood sugar.
Wheat amylase inhibitor was first believed to be ineffective, but it was later shown to have a potential affect on carbohydrate absorption reduction. An effective dose of wheat amylase inhibitor is about 1500 milligrams. nutraMetrix Transitions CAI contains an astonishingly low ten milligrams.
Banaba leaf extract has been tested for its effects on blood sugar and weight loss—on mice, not on humans. It has never been clinically proven to regulate blood sugar or promote weight loss in humans. In the mice studies, there did not appear to be a significant effect on blood sugar regulation, although it did seem to aid in weight loss.
Although Vanadium has not been clinically proven to boost metabolism, we are impressed that nutraMetric Transitions CAI put the right amount of the nutrient into the pill. The minimum recommended daily intake is 10. Many athletes use up to 50 milligrams per day, and we are glad that, in this case at least, nutraMetrix Transitions CAI put in enough to be effective.
Adults need between 50 and 200 mcg of Chromium per day, so nutraMetrix Transitions CAI put in the right amount of it, as well, at 100 mcg.
Magnesium is found in most diet pills, and for good reason. On a low-calorie diet, magnesium deficiencies are common. However, the recommended dose in a fat burner or weight loss supplement is 400 mg. nutraMetrix Transitions CAI contains only 50 milligrams.
Does nutraMetrix Transitions Carbohydrate Absorption Inhibitor offer a money-back guarantee?
nutraMetrix offers a 30-day money-back guarantee, provided that your product is unused. That means that you can get your money back if you change your mind about Transitions CAI before you open the package and try it out—but if you're displeased with your results, you can forget about getting your money back.
Final Thoughts
Although nutraMetrix Transitions Carbohydrate Absorption Inhibitor has a few strong ingredients, there just aren't enough of some of its ingredients to make a difference. It isn't a powerful pill. In addition, it's unlikely that the only cause of your weight gain is carbohydrates, so a carbohydrate absorption inhibitor isn't going to solve all your problems. Transitions CAI doesn't contain fat burners or ingredients that will promote weight loss in ways other than reducing carbohydrate absorption, so it can't attack fat from multiple angles. Because of these reasons, I do not recommend nutraMetrix Transitions Carbohydrate Absorption Inhibitor.